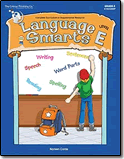 My family and I were so excited to be able to review this product. If you are a homeschool family or teacher, you know the name:
The Critical Thinking Co.™
. This company has amazing books and software for grades preK through 12th grade, that help to teach on the subjects of Reading, Writing, Math, Science and Social Studies. I had first heard about this company from
Cathy Duffy's 101 Top Picks For Homeschool Curriculum
, and upon reviewing this company found out that this is one of many awards and honors this company has recieved.
We loved the thoroughness of
Language Smarts™ Level E
from
The Critical Thinking Co.™
. This can be used as a full Language Arts curriculum or as a supplement for fourth graders. It is flexible enough to be started at the beginning of the book, or wherever you think your child would feel comfortable starting. Don't have a fourth grader yet?
The Critical Thinking Co.™
explains the
Importance of Preschool Academics
and suggests a software bundle your preschooler started. Some of the other members of the Homeschool Review Crew reviewed software from the
Reading, Writing, and Arithmetic Before Kindergarten!™
bundle
.
For this review, my sons and I were blessed to look over

Language Smarts™ Level E

, which is a paperback book.
Language Smarts™ Level E
is a 400 page colorful book that inlcudes over 50 different items of content important for a fourth grader to know, and also covers some material that a fith grader would need to know. Some of these items are Prepositions, Subject and Predicate, Adjectives, Prediction, Poems, and of course Critical Thinking skills just to name a few. The lessons are already prepared, and offer examples, charts and explanations of what the lesson is about. The lessons cover areas for reading, writing, grammar, spelling, critical thinking, vocabulary and punctuation skills and concepts. This book has won six awards, including the Parent Tested, Parent Approved (PTPA) Seal of Approval. It also helps to prepare for assessments such as the Iowa Tests of Basic Skills® (ITBS®) and California Achievement Test (CAT). I think it is fantastic that this books helps to prepare for theses assessments.
This book includes fun and challenging exercises such as fill in the blank questions, word searches, crossword puzzles, reading comprehension, multiple choice questions, and matching. My oldest son absolutely loves word searches. Even though this book was a little old for him, he was able to recognize and sound out the words he was looking for. I enjoyed that this book was older for him though, because it helps me know what my boys need to know for their educational futures. He did awesome in the word searches and crossword puzzles, and we were able to go over what some of the words meant. I think this book would do well for the fourth grade school year, and also as a supplement for during the summer months before fourth grade year.
We really enjoyed having this book as a reference for future years, and I am so excited to check out the other products available from
The Critical Thinking Co.™
because of this review. I would definintely recommend for your second to fourth grade child. My oldest is seven, and he was able to do the easier exercises in this book. Do you have a child in third grade through twelfth grade? Be sure to check out
Sentence Diagramming: Beginning
,
also available from
The Critical Thinking Co.™
.
To find out more about this wonderful company, please check them out on their social medias below: