Disclosure: I received a complimentary Annual Subscription from
KidsEmail.org
through Homeschool Review Crew, in exchange for a honest review.
My sons now have their own
kids email
! They have been sending and receiving emails with the Annual Subscription from
KidsEmail.org
. It is a great way for them to stay connected with their friends back home, family, and our church family. This email for kids allows children to have the freedom of technology, but also has the ability for parents to monitor and protect them from things such as viruses, predators, spam and vulgarity. It can be used on any device such as an iPhone, iPad, iPod Touch, desktop computer, laptop, or any device they choose.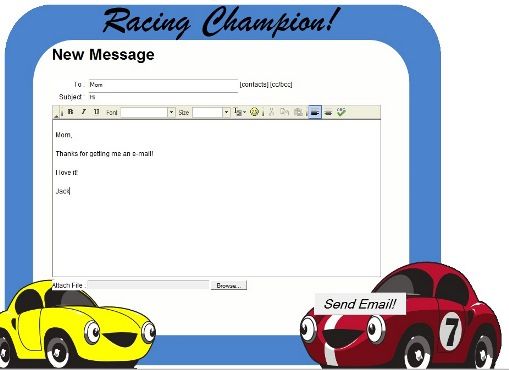 There are many features that are ingenious for monitoring the use of technology with children. Before you even setup your child's account, there are excellent parental questions such as whether or not you as the parent have the ability to receive their ingoing and outgoing emails, if images can be viewed, or if attachments are allowed. When your child sends out an email or receives one, the parent also gets a copy of these emails. The parent has the ability to accept, decline or block who is in their child's contact list, and there is also a time restriction for your child. You can limit the amount of time or times of day your child can spend on their email accounts. This is an amazing feature for a homeschool family, as the technology does not interfere with their studies. There is even a message from you displayed in case your child is grounded and tries to log into their email. There is also a GPS tracker to show where your child has been, if they are using a mobile device or the
app
.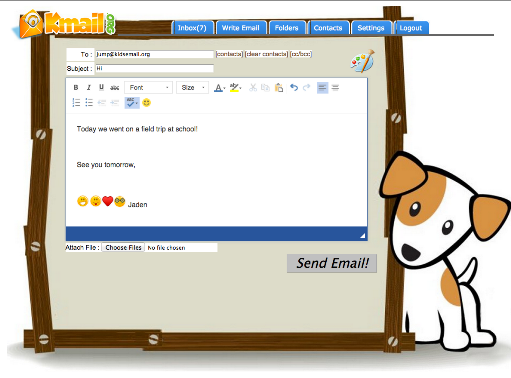 There are also multiple designs for your child to pick out, to custom make their email inbox. I thought this was such a great idea because it becomes something that is their own, and has fun and vibrant designs that any child would enjoy. My sons liked the design with the wolf, shown above. The child gets their own inbox and log in. In the inbox are tabs for writing an email, folders, contacts list and settings to change their design layout.
KidsEmail.org
is not only for kids, but also for teens. Teenagers and children alike are so tech savvy today, that it can be hard for us parents to monitor everything they do online.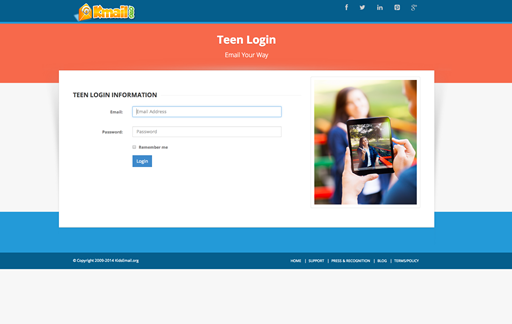 My sons have really enjoyed having the freedom to be able to email back home to their friends and family. They had a group at our church back home that met on Wednesday nights, and for Sunday School classes that they are getting ready to email back and forth. It's amazing that they can keep in contact with their church friends while we are away, and have a Pen Pal kind of setup. It is also cost effective as I think shipping things to and from here can be expensive, especially to the U.S. We are also incorporating this into our homeschool studies, so the boys have a way of doing technology, writing (typing) and spelling.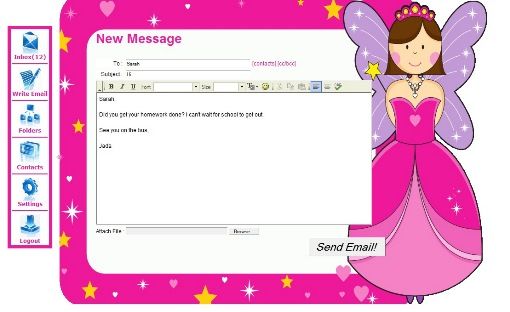 This is a fantastic way to keep your children safe online and I would definitely recommend KidsEmail.org. I have heard ideas of writing an email a week or month to your child when they are born, and have them open it on their 18th birthday or another special birthday. I think setting up a Pen Pal system, or just giving your child a way to feel free to communicate with a friend or family member who may be far away is an excellent idea. To learn how you can start KidsEmail.org for free, please click on the image below.
To find out more about this amazing company, please visit them on their social medias below:

Blessings,
Kelly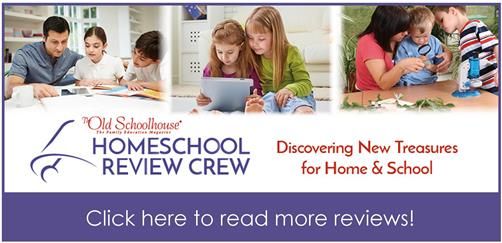 #hsreviews #kidsemail #emailforkids