DVD with videos for Levels 1-3

Three Parent-Teacher Guides which sets out a detailed lesson plan, with a suggested viewing schedule and a variety of fun, supplemental and hands on activities to choose from to reinforce the material taught in the videos.

Flashcards and Card Games for Levels 1 to 3

Workbooks for Levels 1-3

Stickers for Levels 1-3
I didn't realize at the time we signed up to review this amazing product, how helpful it would be. My family and I have relocated to Central America for a job, and so we have had to know Spanish relatively quickly. The DVD from this set is very well thought out and does a wonderful job of making Spanish fun and easy to learn. You and your child are introduced to three brothers and many of the items in the house, along with their T-shirts that have Spanish words on them. The brothers are very comical and funny, and they also do a good job of repeating the words several times so you can remember the word. There are flashcards that are sticky that have many of these same words on them, so you can stick them around your house on the item it is in Spanish. For example, libros is books in Spanish so you can place this sticker near books in your house.
Each of the workbooks is a fun adventure digging more into learning about Spanish such as crossword puzzles and matching games. A Teacher Guide is included with each workbook, and gives you some good ideas about how to teach the lesson. I really enjoyed the fact that there is a Teacher Guide for each workbook, because it familiarizes the parent with Spanish also and how to teach it in case they don't know Spanish. The workbooks are recommended for third grade and up, but my oldest son who is in second grade this year, was easily able to do the activities.
My sons and I absolutely loved the card game. It is similiar to Go Fish, but has your child ask questions in Spanish and answer back in Spanish. My sons were able to play this game after watching the DVD one time, and the video was maybe under 10 minutes long. It was the perfect time frame to hold their attention, but also have them understand.
I was amazed at how quick we were all able to learn Spanish words. It uses words that are needed for conversational skills, and my sons and I have been able to use these words to communicate in our new surroundings. I took Spanish in high school for 3 years, and I wish it was easy as this. I learned words that weren't even taught to me after 3 years of learning a foreign language. I would highly recommend this excellent program for an introduction to Spanish for elementary and middle school learners.
Please visit this fantastic company on their social media: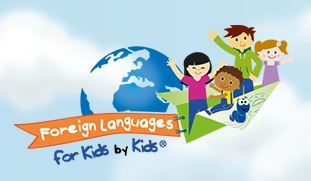 Blessings,
Kelly

#hsreviews #foreignlanguage #homeschoolspanish