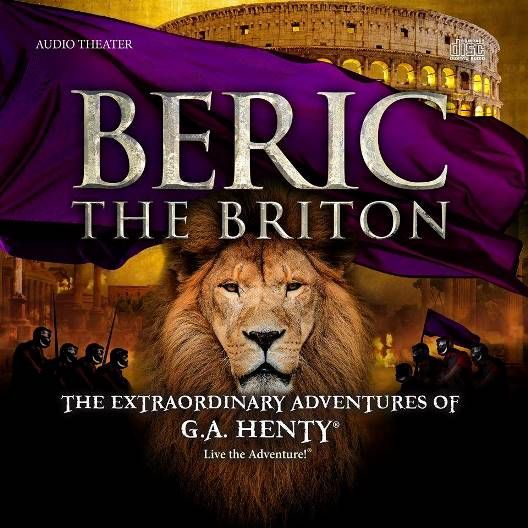 Disclosure: I was given a complimentary copy of Beric the Briton from Heirloom Audio Productions, through Schoolhouse Review Crew in exchange for a honest review.
My family has been enjoying listening to Beric the Briton from Heirloom Audio Productions. It is an audio drama filled with over two hours of amazing adventure and bravery. It is a two CD disc set that depending upon which purchase you select also comes with digital extras such as MP3 recordings, posters, behind-the-scenes, a Study Guide and also the e-book of the story. It is a compelling story that teaches about morals and a sense of duty. It is a wonderful way to bring history alive to children in a fun way. Although this is something that can be enjoyed by anyone, the company suggests an age range for children 6 to 16 years old.
This story is incredible, and something that my sons both loved. You are introduced to Beric, who is a Briton and had been captured at some point by the Romans in the history of the early church, around 25 to 68 AD. While in his capture, he was able to learn about Roman culture and government, and embrace the ideas he enjoyed. He is a young man whose mother is the Queen, and there is a dark vengeance against the Romans. We learn how young Beric tries to teach his culture about the ways of the Romans and how to defend against them. I think this was particularly hard for him, as he had a love of some things that were Roman, but his allegiance was to his own country. He ultimately ends up being captured again by the Romans and is faced with becoming a gladiator, while not knowing if his Queen mother has survived or not. He is so faithful throughout everything he encounters though, and he really encompasses what a true hero is. I thoroughly enjoyed having such an authentic and moral role model in a character, and my sons really admired him.
The Study Guide is 50 pages that were designed by Christian educators, to complement this audio drama. The lessons are broken down into three sections: Listening Well, Thinking Further, and Defining Words. Listening Well is for listening comprehension, Thinking Further gives questions that expand upon the story and give your child's imagination a chance to think about the characters and scenarios, and Defining Words teaches on vocabulary with the needed use of a dictionary. There is also a recommended reading list to learn more about this time in history, brief Bible studies, and a historical background on Beric the Briton. The Study Guide also describes historical figures such as Nero and Queen Boadicea.
Each lesson of the Study Guide is broken down by the Disc number and track number of the CD. I really liked this format because it made sure the child understood what was going on before moving onto the next part in the story. My sons and I listened to both audio CD's before starting the Study Guide. They are both exceptional auditory learners, so if they listen to something once they usually retain a good portion of it. We then replayed the CD's one at a time by their track and went through the questions in the Study Guide orally to test their comprehension and dig further into the historical story.
We enjoyed this audio drama so very much, and the extras that come with some of the purchase packages are incredible. I think my favorite of these was the e-book. I am currently reading it right now, and it helped me understand the story more. I am more of a visual learner, so reading something helps me to comprehend things better. This is the second audio drama we have been blessed to review by Heirloom Audio Productions, and the quality is just phenomenal. There are sound effects, music, and the characters are exceptional. They really bring you into the story and it sounds just like you are in a movie, except the audio is helping to bring the story to life in your mind. This is a wonderful way to spend time with family, while also learning about history from a Christian viewpoint. I would definitely recommend to any homeschool family, or to any family that is wanting to learn more about history. I think this would be a fun way to even have a small group or book club to discuss with the adults and kids, possibly in a co-op group. It is a adventure to be enjoyed by all!
To find out more about this amazing company, please visit them on their social medias below:
Facebook
Twitter
Google+
Instagram
Beric The Briton Facebook Page

The Extraordinary Adventures of G.A. Henty Series Facebook page


Blessings,
Kelly


#hsreviews #HeirloomAudio #BericTheBriton #LiveTheAdventure #BringingHentyBack #AudioAdventures