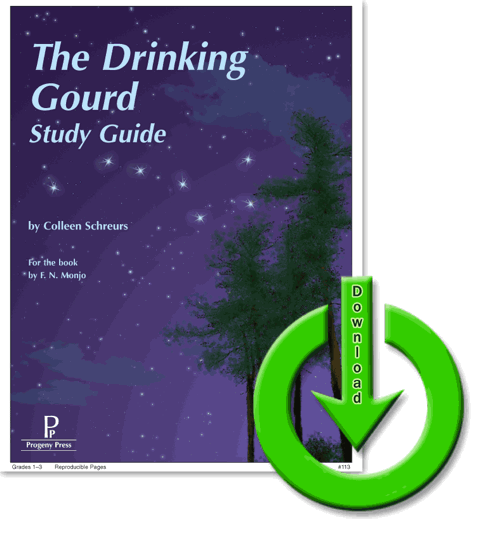 Progeny Press
makes book study easy with their
The Drinking Gourd E-Guide!
This E-Guide is 33 pages long, and is based on the book,
The Drinking Gourd
by F. N. Monjo. The E-Guide is intended for grades 1-3, and includes fill in the blank sections for answering reading comprehension, vocabulary, matching, word unscrambles, a United States map for a geography lesson, astronomy lesson of introducing the Big Dipper, Answer Key, and also suggestions for further reading and after reading activities. It is suggested to have access to a Bible, Dictionary and Thesaurus to enhance these lessons.
The Drinking Gourd
is a historical fiction book for young elementary children. It is about The Underground Railroad, and how people used this and the Big Dipper (aka
The Drinking Gourd
in the story) to escape to Canada so they could be free. The story starts out with a young boy causing mischief at church, who is sent home and discovers people hiding in his family's barn. He meets a family trying to escape to freedom, and later finds out they are there because his Dad is part of The Underground Railroad. It is a Level 3 reader and six chapters long, but has colorful illustrations and is written in a way that children can understand.
The Drinking Gourd E-Guide
does a wonderful job of breaking down the chapters into smaller segments, so we read two chapters at a time and then did the activities for the corresponding chapters. One of the first activities was drawing where The Underground Railroad was located on a United States map, and which states were free and those that were not. This was a fun lesson, because it was something my youngest could participate in also. The E-Guide also gives information on the time frame in history this was. This was an interesting lesson for my sons because they didn't quite understand why people of a different skin color would be treated differently. I think this is a hard concept to teach to children, but this E-guide and story do a great job of explaining that this was done in the past, and how wrong it was.
My sons also learned what a Deacon of a church is, as the main character's father was a Deacon in the church. My father-in-law is a Deacon, so it was fun having the boys describe what a Deacon was once I said Grandpa was one. Another lesson, we worked on was Vocabulary. There was a sentence from the story, and there was a question asked as to what the child thinks the word meant. I had my son guess, and then he had to find if he was correct in the Dictionary. We also worked together on filling out the reading comprehension questions. He knew the answer to the reading comprehension questions and he filled in the questions as best as he could, but I did need to help him with spelling some words. The story also had some words he didn't know yet, so we took turns reading. He would read as many words as he could, and then I would help him pronounce the other words. He just finished first grade though, so he did very well in knowing many of the words in the story.
It took us about two weeks to finish all the lessons in
The Drinking Gourd E-Guide,
but we did take our time with it as it was part of our summer learning. It was a wonderful story to read, and probably not one I would have thought to read if it weren't for
Progeny Press
introducing this book to us. I am excited to look at the other E-Guides available, and would definitely recommend this E-Guide to any homeschool parent or classroom teacher. The Drinking Gourd E-Guide is for Lower Elementary students, but
Progeny Press
also has guides for Upper Elementary, Middle School and High School so be sure to to read the other reviews by my fellow
Schoolhouse Review Crew
members to learn the differences between these levels. The middle school and high school E-Guides can take about 8 to 10 weeks to complete.

Blessings,
Kelly

#hsreviews #classicliterature #criticalanalysis #literaturestudies