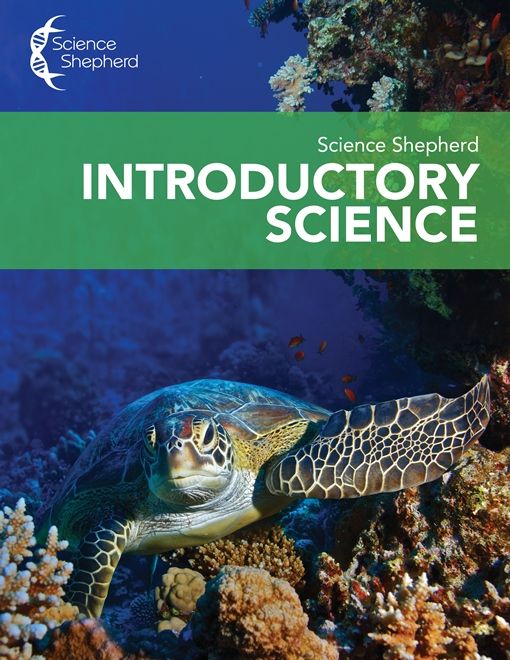 We've learning so much with our new
homeschool science
curriculum, Introductory Science from
Science Shepherd
.
Introductory Science
is intended to be used five days a week for 35 weeks, with fairly short daily lessons. There is a student workbook for Introductory Science with a corresponding Answer Key available, as well as 12 month access to the videos online. The student workbooks are intended for use with one student, and there are actually two to choose from. The
Introductory Science
videos are for ages 6-11, but there is Level A workbook for children ages 6-8, and Level B workbook is for children ages 9-11. (For this review, I will be discussing Student Workbook A, which we received) Subjects covered in this course are Earth, Life, and Physical Sciences such as Geology, Biology, Astronomy, Oceanography and Meteorology. It is also from a Creationist Science perspective, so there is also scripture referenced through the lessons as well.
Each lesson has a specific piece of scripture that corresponds to what your child will be learning. The video lessons are relatively short, with each daily video being about 2-5 minutes. The man in the video explains the concepts extremely well, and does a great job of keeping the attention of the children. After the video, your child is asked to answer some short questions where they may have to fill in the blank or circle the correct answer in the workbook. Each week, the lessons are broken down by day so you have Days 1-5. Some of the daily lessons include activities as well such as a word search puzzle, a matching game, or ideas for craft projects that emphasis the lesson more.
My sons and I very much enjoyed this science curriculum. I think it is wonderful that there is online videos and also a physical workbook. I believe this brings the best of both worlds when you have the technology of the videos, with also the physical workbook ready to go for learning. The lessons are already prepared from the video so it makes it easy for the homeschool parent or teacher. I also love that it is from a Creationist Science perspective, that there is scripture referenced and that God is given credit for all. I had my sons learn each of the scriptures each day, so this helped with scripture memorization and also reading.
My sons thought the videos were full of valuable information, as well as beautiful photos on what their lesson was going to be on. My oldest son who is almost 7, was able to read most of the questions in the workbook with just a little bit of help from me on some words he has not learned yet. Both of my sons enjoyed the activities included in the lessons. One of the lessons, had us make our favorite animals out of modeling clay!
This is a wonderful science curriculum, and I would highly recommend to any homeschool parent or classroom teacher. I'm excited that it can cover such a vast majority of ages, and you can really go at your own pace. Some days, we did one to three lessons in one sitting, because the lessons were short enough to allow us to do so and because we were having such a fun time learning! The Level A workbook is truly age appropriate for ages 6-8, but was something my 5 year old was able to understand and enjoy also. To find out which workbook might be a good fit for your child, check out a free sample of a video, a sample lesson from Workbook A, or sample lesson from Workbook B
here.
To find out more about this amazing company, please check them out on their social medias:

Blessings,
Kelly

#hsreviews #homeschoolscience #onlinescience @scienceshepherd