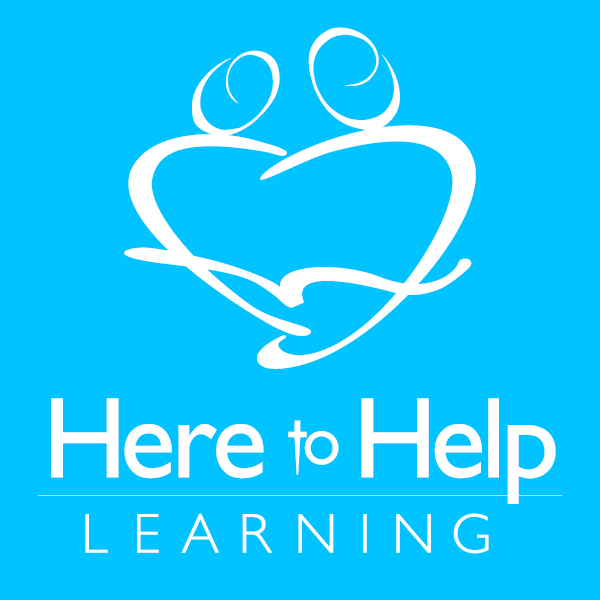 Hi, friends! I wanted to talk to you today about the new homeschool writing program B is using. He has been using Flight 1 Paragraph Writing from
Here to Help Learning
. We were blessed with the online subscription, where we have access to 6 different levels of learning. The levels are called flights, and there are Flights 1-3 Paragraph Writing that are for grades 1-3, and then Flights 1-3 Essay Writing for grades 4-6. There are 32 lessons included per flight, so each flight is a wonderful writing curriculum for the homeschool year. A typical schedule would be to use the program 2 days a week; 15 minutes to watch the videos (more time is needed for breaks and pauses to cover some of the material) and the other day for writing. B is six years old and is in what we consider 1st grade level, so we started him on the 1st flight (Flight 1 Paragraph Writing). He knew how to write words and was just learning about writing sentences, so this was the perfect place for us to start.

I wasn't sure what to expect in an online writing program, but B and I were both amazed and excited when we started watching the videos. Beth Mora is the creator of this wonderful writing program, and she has homeschooled her eight children. She started this program when her youngest child wanted to be in more of a co-op type of setting, since she was the last child at home. Beth started teaching other children in a co-op, which grew to 60 families. Her and her husband, Forrest had worked in many ministries, including one for drama.
Here to Help Learning
is a project that started for them five years ago, and now it is blessing many families to have writing be fun! Beth is a natural in the videos, and she is so enthusiastic and passionate about teaching.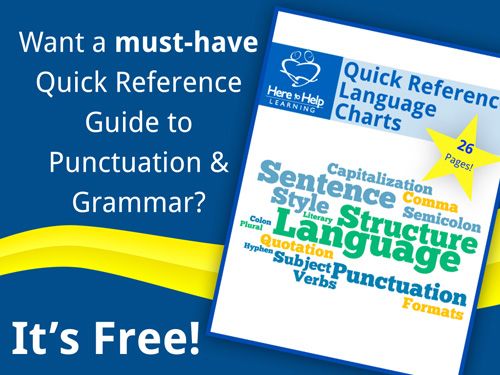 I am going to walk you through our first lesson. First and most important, be sure to have printer paper and ink if you are going to print the material from the website. There is also a way to have the physical copies of the material shipped to your house, (see the image below) and probably something I will do for our future lessons. I am just not good with printing things out. I kind of like having everything set up already, so that I can jump right in. I battled my printer for about 45 minutes before we got started and this took away valuable time, so I like that
Here to Help Learning
also offers physical copies of their products. B had to put together his writing folder with the printable material and tabs, and Beth directs them each step of the way. It was good to have him do this and listen to the instructions given. It is also interesting to see how children learn from another adult and yet, still be in the comfort of home and with me being able to view and share what he is learning.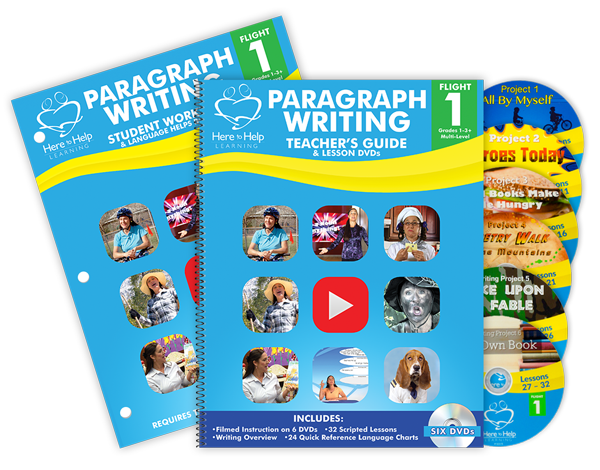 Next, we are introduced to Beth as an airline stewardess, giving us instructions to get ourselves ready for take off! She is very energetic, but also has a calm and relaxing voice so it is soothing and pleasant to hear her explain what we are going to learn. She is very creative and comical, so we see her go from being an airline stewardess to game show host, and then to a teacher. There are engaging learning games and one of the best things is, there are other children in the videos. My son absolutely loved this that there were children close to his age in the videos. It made him more apt to learn and listen, and was also very interactive. There are kids in a game show type of setting, and also in a class setting around a dining room table with no more than 5 children.
B got to play a Thumbs Up or Thumbs Down game, where I read him different sentences and he told me if it was a complete sentence or not. He was very eager to play this game after watching the children in the video play. Then, we watched a video where they gave an example of a picture, and the children sitting around the dining room table had to throw out answers and Beth writes them on a white board. Afterward, B had to brainstorm his own words in a word box and then write sentences describing the scene. Again, he was eager to do it after watching the children in the video with the example they had.
His final task was to watch a video about more brainstorming techniques, and writing down as many words that came to mind about a topic within 2 minutes. He then had to circle 3 of his favorite words, and then narrow it down to his favorite. He wrote down a few sentences on the topic asked, asking for help from time to time for spelling words. He also got to decorate the memory verse of the week, which was a piece of scripture. There was also a fun music video on learning the different writing steps. Beth also the students print out a Language Helps booklet to go over some rules of writing.
Here to Help Learning
is a fun and interactive way of teaching your children that writing can be an amazing experience, and I would highly recommend it. I like that there is scripture memory work, and that there is an excellent teacher making writing fun. I don't have to leave my house to go to a co-op. I get to experience the lesson right there with my son, and he knows I am there if he needs help. He loved the fact that there were other homeschooled kids in the videos. It made him want to do the learning just by watching the other children. He is definitely excited about his new writing lessons, and I am thrilled about finding a writing program that worked so well for us where he is learning and having fun.

Blessings,
Kelly

#HSReviews #writing #homeschool #homeschoolwritingsucess #HTHL #sponsored