For the past few weeks we've been using the New Testament Overview Part 1 from
Grapevine Studies
for our Bible study. I am using
New Testament Part 1 Level 1 Birth of John to Jesus' Ministry
and Level 1 Traceable
,
New Testament Beginner and Beginner Traceable
, and
New Testament Level 2
with my sons. We were blessed with many different levels to see the differences among the levels, so I am going to discuss how to find the perfect level for your child first and then give you the details on what we learned.
Beginner levels and Traceables
(which are available for Beginner and Level 1) are intended for children in pre-K to Kindergarten, or age 4 to 5 years old. I would definitely recommend the Traceable version if you have a child in this age range. The difference here is that the Beginner area for drawing is left blank for your child to color or draw a picture of their own. The Beginner Traceable version has the stick figures drawn out already, so all your child has to do is trace and color the figure. This was perfect for my four year old, who is not quite comfortable drawing his own items yet and would just prefer a picture he can color in. Beginner versions are also not compatible with Levels 1-4, so if you will be doing these studies with older children also, Level 1 Traceable would be an excellent option because the younger child can work with the older children in this unit.
The Beginner and Beginner Traceable includes 12 lessons including a Section Review halfway through the curriculum, and a Final Review at the end. There are a few short questions to ask for reading comprehension at the end of each lesson, and also a memory verse. I very much enjoyed how all the levels we reviewed were age appropriate.
New Testament Part 1 Level 1 Birth of John to Jesus' Ministry
and Level 1 Traceable
is intended for children ages 6-8, or for 1st grade to 2nd grade. I like that there is an option here for a Traceable for this level also (just in case your child still is not comfortable drawing something free hand yet), but my six year old was more than ready to draw on his own. We can barely keep enough blank paper in the house because he is drawing everything lately!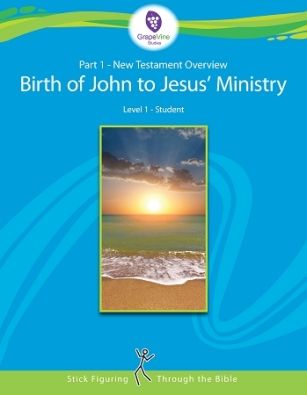 New Testament Level 2
is intended to be for children ages 8 to 10 years old, or who are in third or fourth grade. The main difference I saw in between Level 1 and Level 2 is that Level 1 had more drawing room on the pages, and Level 2 was a bit more advanced with more scripture memorization and facts. Both of these levels included 13 lessons, including a Timeline intro, Section Review halfway through the curriculum, and then a Final Review at the end. At the end of each lesson, there are questions to answer, facts to learn, and scripture to memorize or write down.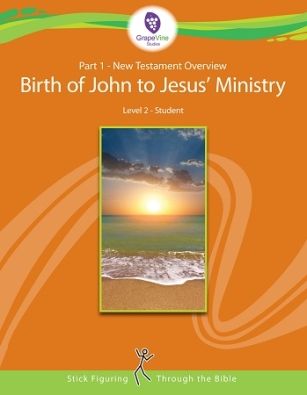 I taught my two sons one day with Level 1 and Level 1 Traceable, and had my husband sit in as the Level 2 student so we could see the differences! We did a timeline for Adam, Noah, Abraham, David, and Jesus. We also talked about Babylonian Captivity, John the Baptist preaching and how baptized his cousin, Jesus. We also discussed Jesus being tempted, the 12 apostles, and how Jesus prayed. Here are the pictures using Level 1 Traceable, Level 1 and Level 2 for New Testament Overview:
Top sheet is Level 2, middle sheet is Level 1 and bottom sheet is Level 1 Traceable. Very easy to teach multiple levels at once using Levels 1-4!

Level 3 is for children 10-12 and in grades fifth or sixth, and Level 4 is for 12-14 years old and in seventh or eighth grade. Now that you know what level is appropriate for your child or children's age range, here is a visual showing the levels and subjects available: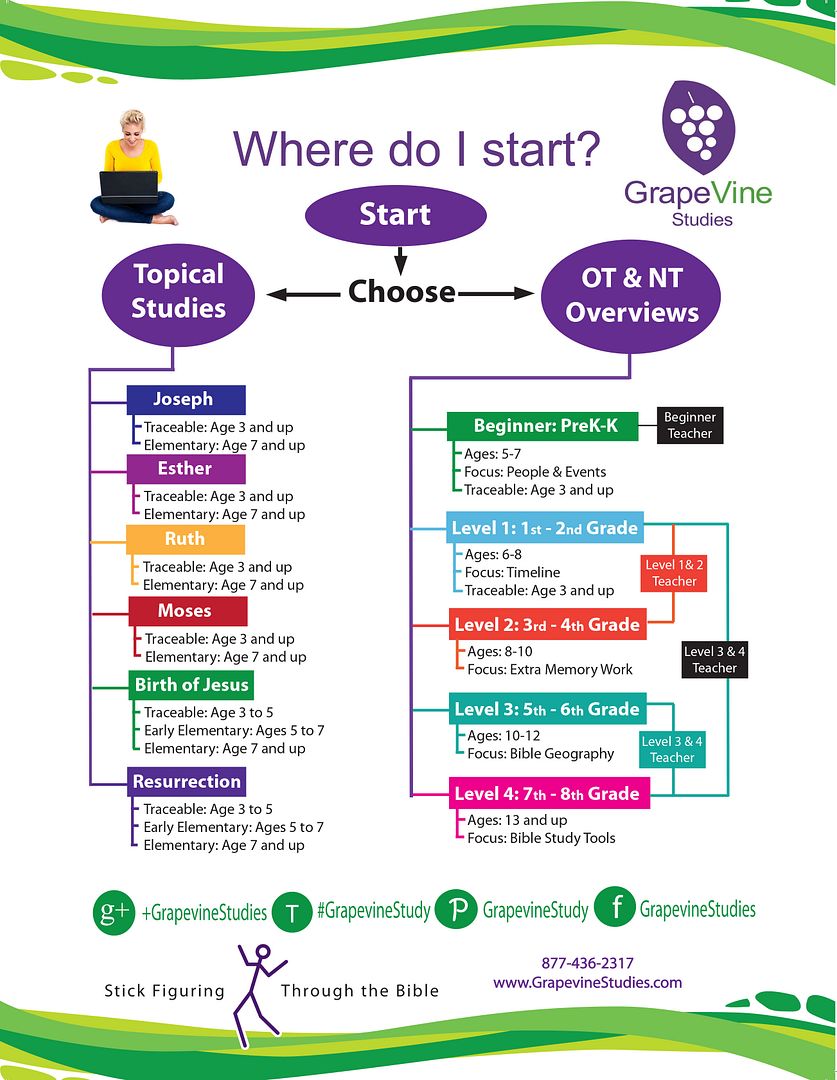 My sons wanted to paint one day, and I decided to start our lesson for
New Testament Beginner and Beginner Traceable
with paint! My four year old traced the stick figures with his paint brush, and my six year old painted the picture free hand below. We learned an amazing lesson on John the Baptist's parents (Zachariah and Elizabeth) and what led up to his birth. Each square below represented the boys having to draw or trace what the scripture was about. I loved being able to read from the Bible, and use the Teacher's Guide from Grapevine Studies to help me walk through the lesson with them. The fascinating thing is that days later, the boys were both able to repeat the whole story back to me!
This Bible curriculum is wonderful for children in elementary and middle school grade levels, and I love the flexibility of being able to teach multiple levels at one time. It is a fun and interactive way of learning scripture and having the information literally "stick" with them as they draw stick figures! I would highly recommend using this as part of homeschool Biblical lessons, Biblical co-op, or as part of a Sunday School class! The Teacher Guide books are essential in doing this and leave preparation easy and minimal. My family and I had an awesome time reviewing the curriculum and using the lessons. There are many different subjects that are available for study, including one for Easter coming on The Resurrection. Thanks for stopping by to read my review :)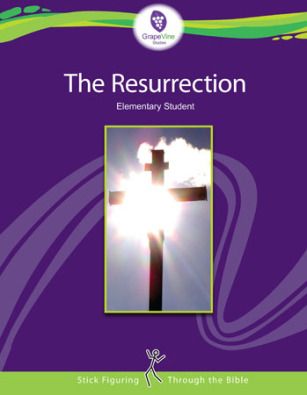 Blessings,
Kelly

#HSReview #GrapevineStudy #BibleStudy #Resurrection #sponsored