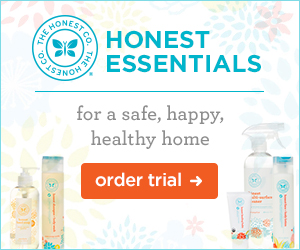 Disclosure: This post contains affiliate links and I will be compensated if you make a purchase after clicking through my links. Thanks for supporting my site!
In case you're not familiar with The Honest Company, their story, and their products, it's my honor to enlighten you.
Honest was founded by actress and business woman, Jessica Alba, and Christopher Gavigan, former CEO of Healthy Child Healthy World (a national nonprofit empowering parents to protect their children from toxic risks). They both strongly believe that every person deserves products that are unquestionably safe, eco–friendly, convenient, affordable, and beautiful
Born out of their frustration to find such products readily available, they decided to join forces and create their own under the name, The Honest Company.
The Honest Company's goal it to deliver the best family essentials to your doorstep; to simplify your life and bring more delight to your every day. Their product offerings are vast and include things like stylish, eco-friendly diapers; organic infant formula and feeding supplies; premium non–toxic personal care and home cleaning essentials; vitamins, baby gear, and more.
At their core, Honest's underlying philosophy is: Together we can make it better.
#ad